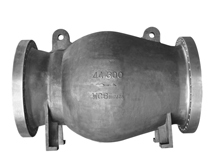 API 6D Nozzle Check Valves
The RANGER axial-flow type nozzle is the preferred solution for preventing backflow or water-hammer on critical process equipment.
Key Application(s)
Backflow or water-hammer prevention
Water, steam, petroleum, natural gas, etc.
Design Features
Sizes from 2" to 40" (50mm to 1000mm)
CLASS 150 to 2500
Operating temperature -196℃ to 593℃ (the range of service temperature may vary for different materials)
The sealing faces of valve seat and valve clack are build-up welded with hard alloy to improve the erosion resistance and extend the service life of valve.
Streamline flow pass, no bypass of medium, small valve flow resistance, and energy saving
Suitable for medium backflow prevention in pipeline or device
The floating valve clack structure is adapted to automatically compensate the error caused by wearing during installation and operation, to ensure the tight mating of sealing faces and improve the sealing performance.
Due to the short opening and closing travel and the automatic resetting without impact, the valve can be fully opened with a small flow rate, and the closing time can be short.
Reference
Design Standards
Face-to-Face
End Connection
ASME B16.5
ASME B16.25
GB 9113
GB 12224
Test Standards
API 598
ISO 5208
JB/T9092
GB/T13927